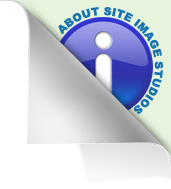 CLICK HERE
to switch to our standard, full resolution design portfolio!
Our highly professional and creative website design accompanied by W3C standards compliant CSS programming, XHTML, CSS, jQuery, and open-source content management systems results in cross-browser compatible websites optimized for high search placement. Our web design is focused on real world business results.
Site Image Studios offers a diverse array of technologies and strategies designed not only to build strong relationships between you and your target audience, but also to ensure you stand out in the crowd of your competitors in your customers eyes and search placement. We can help you fundamentally take control of the message your prospective clients receive.
As a full service design firm, we can also handle your logos, advertising layouts, brochures, labels, signs, letterhead, business cards, packaging, bookcovers, and booklets that carry forth your brand identity in an attractive, unique, and consistent way!

Web Design Portfolio
Site Image Studios
is a graphic design, social media marketing, digital publishing, web production, SEO, and brand identity firm based in Fort Collins, Colorado. We pride ourselves on providing the personal, high quality services that you deserve. We have been built a strong business based on client referrals; not through solicitation or other forms of advertising.
Site Image Studios
will not produce cookie cutter websites. They don't attract new business, they get demoted by Google for content replication, and bottom line: they don't sell. At Site Image Studios, we treat design, marketing, and technology as creative equals, and only produce unique sites that focus on our client's goals. For more about our design philosophy,
click here
.