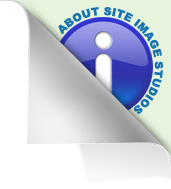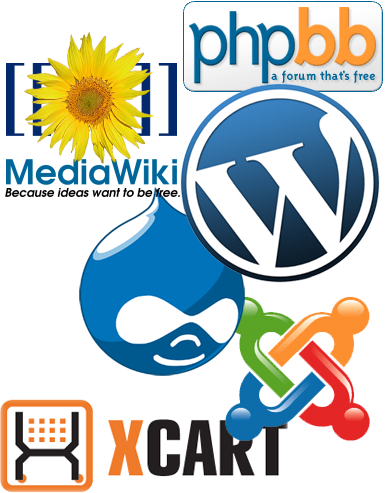 Content Management Systems (CMS)
for Fort Collins Business
Site Image Studios
constantly stresses the importance of Open Source Content Management Systems wherever possible. Whereas custom, "proprietary" developed content management systems from custom web developers can leave you stifled both creatively and functionally, and often end up with a broken application nobody but the original developer will work on, the Open Source Content Management Systems of today allow you to control, update, upgrade, and utilize all of the features on your website for a better user experience. This translates directly into saved dollars.... lots of them... for a very long time to come.
The Many Flavors of Content Management Systems
WordPress & The Open Source Advantage
The advancement of Open Source Content Management Systems, WordPress in particular, has been exponential over the years. What was once thought of as merely a blogging system is now powering some of the most popular, not to mention largest and most aggressively promoted, sites on the web. In fact, many sites you and your clients probably frequent, including eBay, The New York Times, Best Buy, UPS, Sony PlayStation, Fisher Price, and thousands of other Fortune 500 companies.
So why all the buzz? How does this save you money and deliver your company a better product? Consider the web application design process: a client comes into an application development shop with some idea for a site. The application development company and the client hash out a set of design criteria, and the app developers get to work building a system precisely to spec. Already there's a problem: what about the functionality that was missed in this early development phase? What about future scaleability? Will this small design shop's personnel be able to thoroughly test their custom app? Certainly not as well as the millions and millions of WordPress companies and their clients do every day. How much does all of this cost? Every time a new vulnerability is discovered, every time a new feature is needed, and every time a design flaw identified, the client is forced to shell out top dollar for a solution they might otherwise get for free with a much more thoroughly developed and robust open source solution.
Site Image Studios
has had many clients walk into our office, wallets lighter, heads throbbing, and hearts broken, due to a severely damaged or non-functional web application some long forgotten app developer built that no other developer wants to touch. This makes us very sad to see... and we see it happen
all the time
.
OK ...bottom line this for me.
So, what can WordPress and Open Source Content Management Systems do for your business that a proprietary CMS can't? Well... for starters, it is going to offer you higher quality, as it is constantly being improved upon for better usability and functionality by many thousands of developers the world over for free. This allows your site to be as flexible as your business and able to be updated and upgraded with a click to the latest and greatest thing... whatever that may be. WordPress is also a search engine's best friend: WordPress-based web sites are indexed much more frequently and efficiently than proprietorially developed systems. Moreover, you will be sharing an open source platform that millions of websites globally are powered and tested on, as opposed to just a handful of clients.
What Are Content Management Systems?
From Wikipedia with a few minor redactions
A content management system (CMS) is a software system that provides website authoring, collaboration, and administration tools designed to allow users with little knowledge of web programming languages or markup languages to create and manage website content with relative ease. A robust CMS provides the foundation for collaboration, offering users the ability to manage documents and output for multiple author editing and participation. Most systems use a database to store page content, metadata, and other information assets that might be needed by the system. A presentation layer displays the content to website visitors based on a set of templates. Most systems use server side caching to improve performance. This works best when the CMS is not changed often but visits happen regularly. Administration is typically done through browser-based interfaces. A CMS allows non-technical users to make changes to a website with little training. A CMS typically requires a systems administrator and/or a web developer to set up and add features, but it is primarily a website maintenance tool for non-technical staff. What follows in the drop downs below is background and statistics on some of the most popular CMSs. While
Site Image Studios
usually leans towards these, we are not limited by them, and accommodate just about any content management system out there.
If you are looking for strength in numbers, consider this: at the beginning of 2010 there were well over 202 million websites powered by WordPress, along with 14% of the top 1 million biggest websites using this Open Source platform. As of February 2011, version 3.0 alone had been downloaded over 32.5 million times. WordPress is used by over 14.7% of Alexa Internet's "top 1 million" websites and as of August 2011 powers 22% of all new websites. It's difficult to even come by a reliable number of "total WordPress Powered Sites" since 2010. WordPress is currently the most popular CMS in use on the Internet, hands down. What single web application development firm can even begin to hold a candle to something like that? Not even Google, friends... not even Google. That is the power of an open source CMS.
As of August 2011 there are more than 11,000 free community-contributed addons, known as "contrib modules" (similar to WordPress "PlugIns"), available to alter and extend Drupal's core capabilities and add new features or customize Drupal's behavior and appearance. Because of this plug-in extensibility and modular design, Drupal is sometimes described as a content management framework. It also offers an advanced programming interface for clients with very specific needs. This may make sense for Site Image Studios clients when critical functionality that doesn't presently exist is desired. This is a good alternative to consider if one is on the fence between a proprietary CMS and something open source. Whey have the entire CMS coded from scratch when you can just add a module?
X-Cart is 100% PCI-DSS compatible, has a W3C-compliant storefront with a CSS-based layout, AJAX-based components and WYSIWYG editors improve the user experience, allows for plain-test editing of meta tags on a per-product basis (making is very search engine friendly), and is fast enough that dedicated hosting is not needed. The application is proprietary, but Qualiteam, the makers of this application, has 120 engineers dedicated to it's development.It's used in over 100 countries, and in 2006 the X-Cart quality management system was certified to match ISO 9001:2000 quality standards. For more information about X-Cart and
Site Image Studios
,
feel free to check out our e-Commerce page
.
Features of phpBB (PHP Bulletin Board) include support for multiple database engines (PostgreSQL, SQLite, MySQL, Oracle, Microsoft SQL Server), flat message structure (as opposed to threaded), hierarchical subforums, topic split/merge/lock, user groups, multiple attachments per post, full-text search, plugins and various notification options (e-mail, Jabber instant messaging, ATOM feeds). It's installed on tens of thousands of sites and comes in a variety of "flavors", or versions, each of which can be custom tailored to suit the client's needs.
Developed by the Wikimedia Foundation, it is used to run all of its projects, including Wikipedia, Wiktionary and Wikinews. Numerous other wikis around the world also use it to power their websites. It is written in the PHP programming language and uses a backend database. The software is highly customizable, with more than 700 configuration settings and more than 1,800 extensions available for enabling various features to be added or changed. More than 600 automated and semi-automated bots and other tools have been developed to assist in editing MediaWiki sites. As of August 2011, MediaWiki is the most popular Wiki-based open source CMS available.
Still aren't sure which content management system is the best one for your project? Call
Site Image Studios
today and we can hash out the details of what you want to achieve and together we will find the CMS solution that works the best
specifically for you
.
Call us today! (970) 430-5155
Site Image Studios: Much More Than "Just" WordPress
Drupal
WordPress is by far the most popular and widely used CMS out there... but it is by no means the only one.
Site Image Studios
has a great deal of experience building websites based on other open source and off-the-shelf content management systems. As virtually all of our clients can attest,
"anything is possible"
is a phrase we use a lot; we believe that to be a profoundly true statement. Drupal has proven itself time and time again as another outstanding content management solution, which is why it's grown from a small open source community to a network of thousands of developers running hundreds of thousands of websites, with thousands of available modules from which to choose. Drupal is often the CMS of choice for medium-sized and enterprise-level websites.
For clients looking for a payment system or shopping cart for their site with extended functionality Site Image Studios typically offers X-Cart with the X-Payments Gateway. X-Cart is 100% PCI-DSS compatible. This means you can accept credit cards right on your X-Cart powered web-site. It is already used by thousands of online stores, so you can be sure that it is much more thoroughly tested (similar to open source software) than a custom built system. AJAX-based components and WYSIWYG editors improve the user experience, and make adding products or services relatively painless. For more about X-Cart and all it can provide, be sure to check out
the Site Image Studios e-Commerce Page!
Bulletin Boards & Collaboration-Based Websites
Content Managements Systems are being used for a lot more than "just" running one's business on the web. They can also make great collaboration tools on your office intranet for managing projects and internal communication. They can be used to manage the company customer support system, and provide an easy to reference history for quality assurance. You have probably used a wide variety of CMSs in your day-to-day already! Wikipedia, for example, runs on an open source CMS platform called "WikiMedia." Many support forums for everything from car parts to psychotherapy to gardening are powered by some variant of phpBB (PHP bulletin boards), the vast majority of which are also open source. There are more open source content management systems out there than we could even reasonably list on this page! The best part about them is they are all developed by a community of passionate developers who genuinely care about the system... so much so that in many cases they do it without ever receiving monetary compensation. At
Site Image Studios
, you never really have to make up your mind. In some instances it might make sense to run multiple content management systems. We never charge for advice... if you have questions about what CMS would work best in your situation, give
Site Image Studios
a call!